MEMBERSHIP DUES ARE NOW PAYABLE
It is now time to join or renew your membership to JLCNR-RC9. Please save us the cost of mailing and download a membership form here.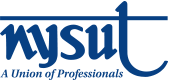 NEW YORK STATE PASSES LEGISLATION TO ALLOW CAMERAS ON STOP-ARMS
The legslation that was recently passed to allow school districts to install stop-arm cameras on school buses has been applauded by NYSUT. According to NYSUT President:
"This law marks a significant step forward for student safety. With an estimated 50,000 motor vehicles illegally passing school buses every day across New York, bus drivers are constantly on the lookout for these reckless motorists while also keeping an eye on the children in their care. It is our sincere hope that school districts will work quickly to begin installing stop-arm cameras so we can better hold accountable those who show blatant disregard for our kids. We thank the governor and Legislature for putting our children first with this important legislation."
The legistlation came about with help from the Support School Staff campaign.
MAKE YOUR RESERVATIONS NOW!
The JLCNR - RC 9 Fall Luncheon will be held on October 16, 2019 at Tug Hill Vineyards. Click here for details and to make your reservations which are due by October 9, 2019.